Gabris Landscaping
If you want to add some color to your lawn and increase the curb appeal of your home, you have more options than just flowers and shrubs. Colorful trees can turn your lawn from dull to vibrant all year around. There are numerous options to choose from, but we've listed some of our favorites to help you get you started.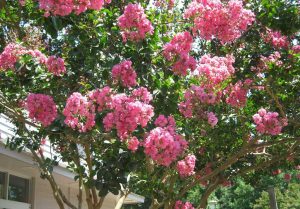 Crape Myrtle
The Crape Myrtle average height is between 15 to 25 ft and the average spread is between 6 to 15 ft.
We like like these trees because they're survivors that laugh in the face of drought and deer. They love hot, sunny climates and bloom in summer when most trees have ended their show. However, crape myrtles don't love to be topped off. Be sure to give them plenty of room to grow and ask your tree service company to use a lighter pruning touch.

Sugar Maple
The Sugar Maple average height is between 60 and 75 ft and the average spread is 40 to 50 ft.
We like the Sugar Maple because it's not picky about soil and doesn't mind wide ranges of temperature. The hardy sugar maple can be a good replacement tree for an ash or elm tree taken by disease. And added bonus is the eye-popping fall foliage, and you can even tap the sap and make your own syrup. Just don't plant them too close to roads, because any salt from ice melters will harm the tree.

Smoke Tree
The Smoke Tree average height is between 10 and 15 ft and the average spread is 12 ft.
We recommend the smoke tree because it plays well with others in groupings, hedges, or windbreaks. Smoke trees like hot, dry weather and thrive in a wide range of soils. They have fascinating textures and add a punch of color in small spaces. In summer, they sport wispy, pink bloom clusters. In fall, their foliage turns yellow, orange, and red. The rest of the year their leaves are purple, gold, or green.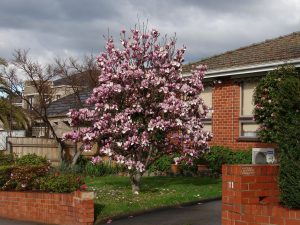 Saucer Magnolia
The Saucer Magnolia average height is between 20 to 30 ft and the average spread is 25 ft.
This harbinger of spring is a very tolerant tree, not bothered much by dry, wet, and polluted environments. It does well in our clay soil here in Missouri, but would prefer rich, well-draining loams. Its fragrant white and purple flowers usually show up in March, putting on a spectacular, albeit short, show.
If you'd like us to plant these or any other colorful trees to improve the curb appeal of your home, please don't hesitate to contact our office. We would be happy to help you explore your other options when it comes to colorful trees for your landscaping.